It's no surprise that I love Tunisian crochet. I've got over four hours of videos on Tunisian to teach you the different stitches and techniques. Check out my free online videos.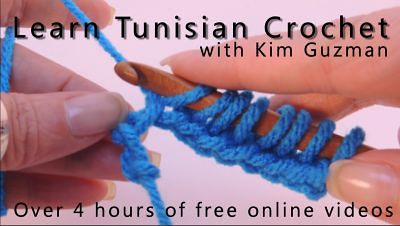 Have a look at these new free Tunisian crochet patterns for some fantastic inspiration to get you started.
Shown:
1. Stauffer Shawl by Katy Petersen of KT and the Squid
2. Tasha Tunisian Shrug by Amber Millard of Divine Debris
3. Vineyard Throw by Kristine Mullen of Ambassador Crochet
4. Basketweave Pillow by Tanya Eberhardt of Little Things Blogged
5. Puddles of Love Baby Blanket by Julia Schwartz of Designs by Diligence
6. Moss Stitch Hat by Marie Segares of Underground Crafter
Not Shown:
7. Eternal Spring Infinity Scarf by Kim Guzman of CrochetKim
8. Tunisian Market Bag by Nicki Hirsch NO LONGER AVAILABLE
9. Nereide by Silke Reibeling of Häkelreigen
10. Little Bobbles Blanket by Phanessa Fong of Designs by Phanessa
Enjoy!