Tunisian crochet is, by far, my favorite in the crochet genre. I have over four hours of free online videos in Tunisian crochet.
This page is a work-in-progress. I'm trying to pool all information together for each video, including written instruction, photo, symbol and any other helpful information.
I have more published Tunisian crochet patterns by a single designer than anyone in the world!
I've written a lot of books on Tunisian crochet. I have a lot of free online patterns on my website here as well. I've decided to write a Tunisian Crochet Library here because I find online resources sorely lacking in Tunisian crochet instructions. Some people write "memoirs". I write Tunisian crochet!
Tunisian crochet is ever evolving. The things that have changed and evolved since I first started writing books on Tunisian crochet in 1998 have been incredible. There are so many stitches and stitch combinations. It's a beast! It's possibly bigger than knitting and crocheting combined.
As the years have gone by, stitch names have changed. Some stitches have no name at all. They may be called a "modified" stitch until a name comes into practice. The important thing to remember is that everything is changing so always read the special stitches instructions of the pattern to ensure that you are using the correct stitch.
I am using solely Cascade 220 Superwash Wool for all the swatches in this Tunisian Crochet Library. I love how well the stitches show in this yarn and it blocks out perfectly. Thanks so much to Cascade Yarns for providing the yarn used in these swatches.

Getting Started: Basic Information, Tips and Techniques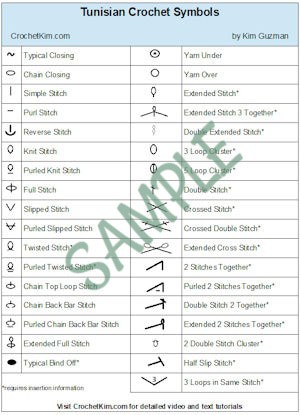 Tunisian Crochet Symbol Cheat Sheet Free Printable
Download the Ad-Free Printable Tunisian Crochet Symbol Cheat Sheet for easy access to the most common Tunisian Crochet Symbols I use in my patterns.

Learn Tunisian Crochet Basic Stitches
Actual stitches in Tunisian crochet, demonstrating the many looks depending on how you insert your hook. These stitches can be worked as an all-over repeat as shown or they can be worked in combinations.
Learn Tunisian Crochet Alternating Stitch Patterns
These are alternating combinations of stitches forming a stitch pattern. These are stitch patterns which alternate back and forth to create a diagonal layout.
Learn Tunisian Crochet Stacking Stitches
These are stitch patterns creating by stacking same stitches and alternating them with others.
Learn Tunisian Crochet Tall Stitches
As with all of the "tall" stitches in Tunisian crochet, you can usually use any of the Insertion stitches (i.e.; simple, knit, purl, etc.). The stitches are taller and will resemble regular crochet in look and technique. It makes the work progress much more quickly.
Learn Tunisian Crochet Fancy Stitches
All remaining stitches will be in the "Fancy Stitches" category. This includes more extensive use of stitches and the beautiful Tunisian crochet lace.

Free Tunisian Crochet Patterns
When you have some knowledge about the stitches under your belt, go ahead and pick a pattern so you can practice. That's the best way to learn! Find something you really want to make and just go for it. What's the worst that can happen? 🙂