Shell-stitch ripples create a light and airy top that works alone or with an underlayer.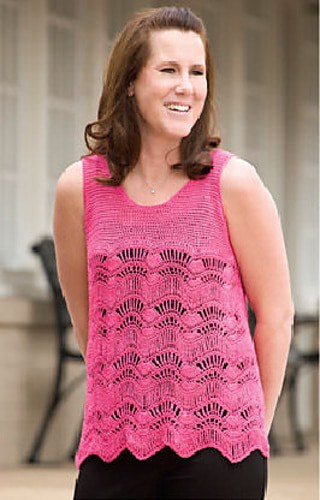 Large Variety of Women's Sizes
This layering tank top pattern was originally published in Crochet World magazine and the publisher has now made it available for free on one of their websites. The pattern is written in sizes small through 3X for a full range of sizes.
Design Inspiration
This stitch pattern was created by combining two stitch patterns. One is the widely-popular Feather and Fan Stitch. You can see it in the more open areas. It's separated by fun vertical lines that are created only with the same tall stitch throughout. I really love the effect and I already have plans to use the combination in another project.
Yarn Substitution
The original was made in a sport weight rayon, which has been discontinued. Rayon has a silky, lightweight feel. If you are able to find rayon made from bamboo in this yarn weight, it will be a good match. La Abuela Rayon from Omega yarns may also work. It's the only 100% rayon I could readily find, but I am not sure of its weight.
Since the rayon is discontinued, though, you may find that a sport weight cotton yarn can be more easily found. For instance, Tahki Yarns Cotton Classic Lite could be easily substituted. You're not going to want to substitute a heavy weight cotton, like Peaches and Cream. You're looking for something about double the size of standard bedspread weight cotton.
Free Crochet Pattern Download
This download is presented by FreePatterns(dot)com, owned by the same people as Annie's, which is the same company that was owned by Annie Potter so long ago. They own the website, Crochet! magazine and Crochet World magazine. This website requires registration and login.