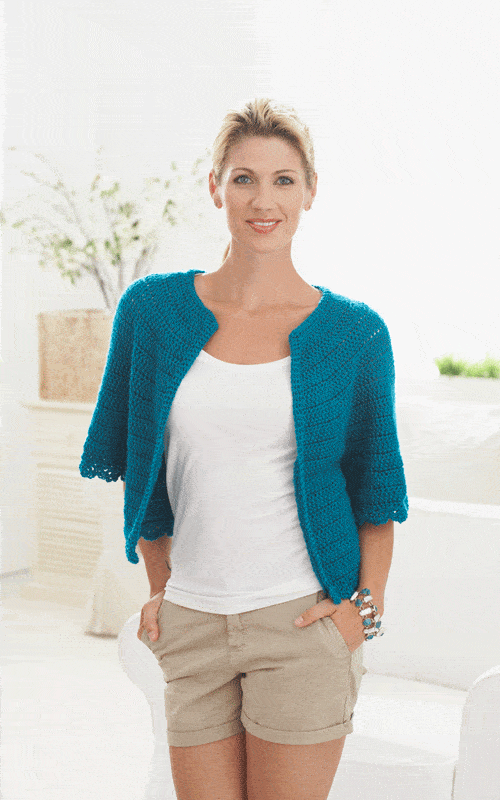 Cape Sleeved Cardi
designed by Kim Guzman
Technique: Regular Crochet | Linked Stitches
The Cape-Sleeved Jacket is a top-down jacket, stitched from neckline to hem. It's stitched in one piece, adding the sleeves directly. There is no seaming. This design is made in linked stitches throughout.
Errata: There appears to be a one-stitch difference in stitch count for the beginning of this project. Please use the following in order to maintain the stitch count:
Row 1 (RS): Sk first ch, sc in next 4 ch, 2 sc in next ch; repeat from to last 4 ch, sc in each of 3 ch, 2 sc in last ch, turn-83 (89, 95, 101, 107) sc.
Round 2 of the trim (the reverse single crochet round) is worked into the front loop only. Then, when you get to round 3, it is worked in the unused back loop of round 1.
WARNING: There are 3 videos on YouTube demo-ing this design. While I appreciate the enormous commitment the person has placed in my design, incorrect instructions are given in the videos.
While you can certainly review the videos and I'm sure you'll gain some answers to your questions, you should understand that they are incorrect. In addition to other mistakes, the demo of the linked stitch is incorrect. And, this wouldn't be a huge issue. But, the demo is using Super Saver, at least a 2 size difference from the yarn used in the pattern. The videos would take me about 1-1/2 hours to review in depth. So, I gave up watching them in their entirety.