English Name: Tunisian Aligned Cross Stitch
Spanish Name: Punto Tunecino Cruzado
Symbol Chart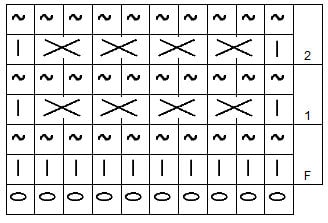 Level of Curling: Moderate curling. More information on the natural curling of Tunisian crochet.
If you are experiencing difficulties viewing this, you may need to turn off any ad blockers you have installed.
Special Stitches:
Tunisian Cross Stitch (tcross): The cross stitch in this tutorial is worked as for simple stitch, in the front vertical bar. Review the simple stitch instructions below. The stitch is worked across two stitches. Skip one stitch, insert hook and pull up a loop in the next stitch, now, pick up a loop in the skipped stitch. The loops will be crossed to form an "X".

Tunisian Simple Stitch (tss): Click here for further stitch instruction.

Tunisian Crochet Pattern Instructions
Instructions:
Foundation:
A: Ch an even number, sk first ch, *insert hook in next ch, yo, pull lp through, leave lp on hook, rep from * across.
B: Ch 1, [yo, pull through 2 lps on hook] across, 1 lp remains.
Row 1:
A: Sk first vertical bar, tcross to last st, insert hook in last st under two outer vertical bars, yo, pull lp through.
B: Ch 1, [yo, pull through 2 lps on hook] across, 1 lp remains.
Rep row 1 for pattern.
Notes: When working a flat swatch, I will typically make the last stitch under the two outer vertical bars for stability. It isn't a requirement and I don't use it for all applications of the same stitch pattern. It's solely a finishing technique.
More Video Support
Yarn Support
The yarn shown in this stitch is Cascade 220 Superwash Wool in color 847 Caribbean. Thank you to Cascade Yarns for providing the yarn for this stitch library.
All images, charts, symbols and text, as shown on this page © Kim Guzman, 2019