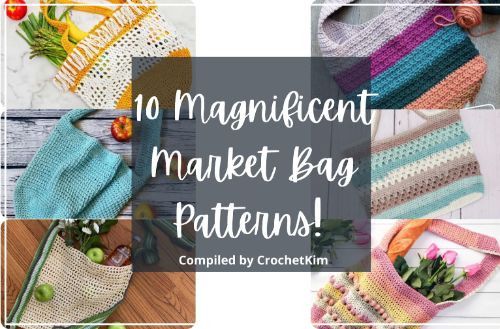 With climate change a pressing issue of our age and plastics choking up our oceans, it's important to play our part in keeping our planet clean and green.
That's why we've rounded up 10 magnificent crochet market bag patterns which you can make up in no time with all sorts of beautiful colorful yarn.
These market bags are perfect to take with you whenever you go out for some fresh veggies and fruits and are easy on the shoulders as well so you don't have to carry in twenty plastic bags at once.
Let's dive right in!
The Tied Together Market Bag by Crochet with Marybeth
This market bag has such a unique look with long straps that make it sturdier than most and a stitch repeat which is easy to work up.
The pop of green leaves it looking fresh and environmentally friendly but you're always welcome to use whatever colors you like best.
---
The Diamond Cable Bag by Desert Blossom Crafts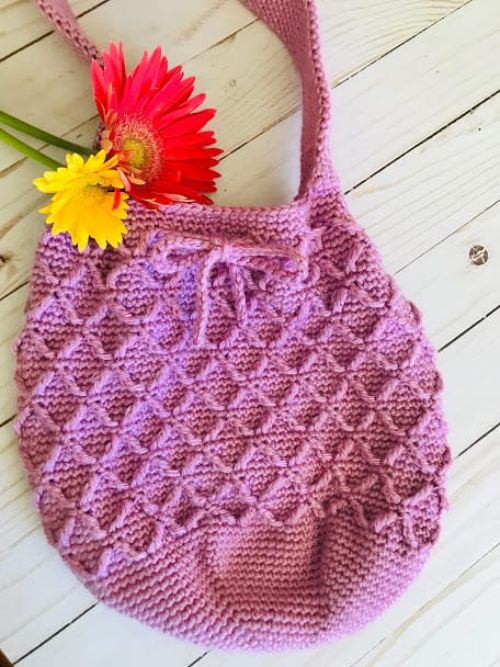 This crochet market bag pattern may seem a bit challenging but the instructions are given in detail and you'll have a beautifully textured market bag by the end of it.
There's also a drawstring which lets you close and open it at your ease so that you can keep your goods secure while you're shopping.
---
Colorful Alix Bag by Divine Debris
If you've got a lot of scrap yarn in your collection, this pattern may be just right for you. You can use as many colors as you'd like to work up the stripes, leaving you a wonderfully unique piece. Also, it teaches you a new stitch as well so if you're a beginner, this would be good as a challenge.
---
The Crochet Boho Grocery Bag
Are you looking for a simple, easy, beginner crochet market bag pattern which has a few fun touches to it too?
This is the pattern for you then.
This market bag comes with a fringe, giving it a bit of a boho twist, and you can make it in your favorite colors (or even just one color if you'd like).
---
More Than a Market Bag by Stardust Gold Crochet
Not all market bags are only for the market and this one was made for multifunctionality. While you can take it with you on your grocery shopping trips, it's also a great item to have around for a beach visit, a picnic, or even for a walk in the park.
---
The Gathering Rosebuds Crochet Market Bag by Nana's Crafty Home
WIth just one cake of yarn, you can make this gorgeous market bag which has a cute little flower puff stitch in between rows too. This bag is floral, functional, and works up so easily making it just right for your trips to the market.
---
Network Shopper by Handmade by Raine
This classic market bag has a netted texture which gives your groceries some air and you can easily fold it up and store it in your purse whenever you go out. It's handy to have a few of these with you because you never know when you might end up taking a detour to the market.
---
The Vendbar Tote Bag by The Loopy Lamb
This fresh blue tote bag has a bit of a secret in its name. Vendbar is the Danish word for reversible and that's exactly what this bag is. You can choose whichever side you like best or you can even make two – one for each side. There's no wrong way about it.
---
The Tunisian Market Bag by With Alex Official Blog
If you want a market bag with a gorgeous texture to it but it's also simple and easy to make, this is the pattern for you. You can make it up quickly with one color and its thick strap rests nicely on your shoulder, making it comfortable to carry around.
---
Ocean Breeze Tote by Loops and Love Crochet
This market bag, as the name suggests, looks like it belongs right on the beach. While going to the market may seem like a mundane activity, having this bag by your side could make it a bit more like a vacation.
---