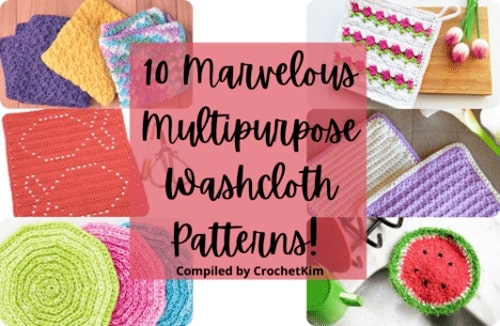 It's time to put those store-bought worn-out washcloths away and pick up your crochet hook to make one of these beauties instead.
These crochet washcloth patterns double (or triple) as dishcloths and face scrubbers. If you want to do some stashbusting, dive into a quick, fulfilling project, or just get your hands on a new washcloth, we're sure you'll find something interesting in this roundup.
In a range of sizes, shapes, colors, and yarn types, here are ten marvelous, multipurpose crochet washcloth patterns which are sure to keep you occupied this evening!
The Seeing Spirals Washcloth by Winding Road Crochet
This fun crochet washcloth pattern gives you a textured washcloth in a spiral shape. The best part about it is that there's no need for joining and you can keep working round and round until you have the size you'd like.
For those with delicate skin or crockery that gets scratched easily, this subtle texture is perfect.
---
The Suzette Stitch Spa Washcloth by Salty Pearl Crochet
This beginner's pattern has a lovely look to it even though it just uses your basic single and double crochet stitches.
The edges have a naturally wavy border which sets it apart from others and you can crochet one for yourself in no time.
---
Wishy Washies Washcloths
Fans of Tunisian Crochet will love our Wishy Washies Washcloth Pattern.
We use two contrasting colors to add a real splash of color to these versatile washcloths. They would make such a fun housewarming gift idea for a friend or you can make up a quick batch in no time for use in your own kitchen or bathroom.
---
The Petite and Pretty Washcloth by Stitching Together
This crochet washcloth is made with a unique (but easy!) petit pois stitch which the wonderful pattern designer explains in detail in this pattern. It's also made in a nice big size for more utility.
---
Treble Pop Washcloth for Beginners by Sigoni Macaroni
And here we have a pattern which will help you practice your basic crochet stitches while adding a washcloth to your collection. Not only will you practice, you'll learn a few new things with this crochet washcloth pattern.
---
Stashbusting Washcloths by Crafting Each Day
These gorgeous washcloths are simple, useful and quick to get your hands (or dishes) on.
They've got a border to give them that nice clean finish and there's a special technique that lets you achieve that beautiful texture.
---
Tulip Stitch Dishcloth by Handmade by Raine
While you can make yourself a simple, one-color washcloth, this pattern spices things up a bit by adding a beautiful tulip stitch in the mix. This crochet washcloth is sure to brighten up your kitchen (or bathroom) and spread springtime joy.
---
Reflect by Rows and Roses
Rows and Roses present a washcloth pattern that is sure to beautify your dining table as well as your sinks.
These dishcloths were made to pair with a set of Blue Willow dishes so if you have a set of crockery in mind that needs some washcloth lovin', this is the pattern for you.
---
Cotton Grit Stitch Washcloth
You're never too old (or too young) to learn a new stitch! This washcloth features a beautiful, yet easy, stitch which makes sure it doesn't appear too lifeless or flat.
---
Watermelon Dishcloth by My Poppet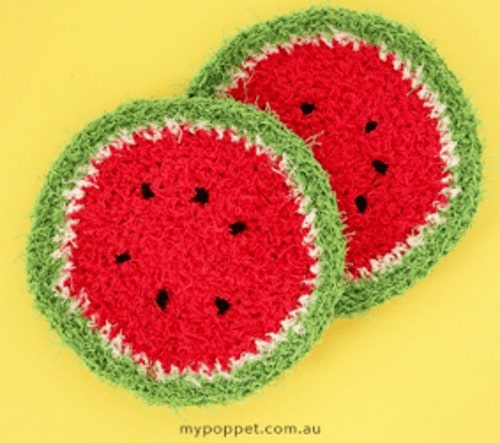 Alongside all the rectangles and squares, here's a fun circular washcloth that will fit right in with your kitchen items. The colors are nice and bright and it certainly earns its place next to your fruit bowl.
---
Gone Fishing by Mayhem and Majesty
Last (but in no way least), we present the Gone Fishing crochet washcloth pattern. Not only is this pattern simple and quick to make, it gives you an adorable little fish which is definitely a cuteness bonus.
You can make one of these for a child's washroom or as a unique present for a fish lover.
---
We hope you've found your next crochet washcloth project in this roundup. Have an amazing evening (afternoon, day, or night too!) of crochet.