Snowmen are not just for Christmas. Keep them up all through Winter to add a few warm touches to your home decor.
You will be spoiled for choice scrolling through these 16 different (and all free!) Crochet Snowman Patterns. Make sure to keep going right until the end as we have saved the cutest basketful of snowmen for our last pattern.
We have Crochet Snowman patterns to hang as tree ornaments, use as table top decor, create cozy homewares, fun new designs for cards and gift bags, festive bunting and more.
Lots of ideas for gifting, craft fairs and your own home. We hope you enjoy our Crochet Snowman Patterns. We'd love to know which ones you are going to make.
Cozy Snowman by Spin a Yarn Crochet
An adorable Snowman all wrapped up in a buffalo plaid trapper hat, fur vest and cosy scarf. Not a fan of plaid? Change it up to suit your preference. Give is a gift or display home at home this Winter.
---
Snowman Baubles by Hooked on Patterns
Here's a quick and easy stash busting project for you.These sweet little Snowman Baubles would make a great addition to your Farmhouse Christmas Tree this year or parcel them and give as gifts.
---
Snowman Christmas Tree Ornament by Hooked for Life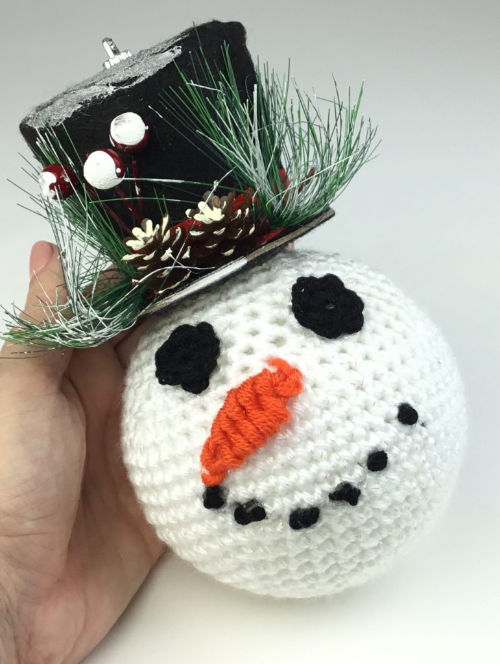 Another option here for a stunning new Snowman ornament for your tree. We love the fun detail of adding a top hat to this Snowman. Dig out some festive ribbon from your stash and hang him on your tree this year.
---
Our Winter Snowman Puffs Infinity Scarf by Kim Guzman
This would make a really fun gift for a child or Snowman loving big kid! Due to the reversible nature of this stitch pattern you can make either an infinity or a regular scarf with this design.
---
Snowman Treat Bags from Blackstone Designs
These fast and easy to work up Snowman Treat Bags are the perfect last minute gift. Fill them with sweets or a gift card and they are good to go. They would make a fun decoration on a Holiday card as well.
---
Cute Little Snowman Ornament by Desert Blossom Crafts
You can have this cute little snowman ready for gifting in an hour, making this one of the quickest (and cutest) last minute gifts to make for a neighbour or school teacher.
---
Crochet Snowman in Love by Golden Lucy Crafts
This Snowman has a huge heart on his chest making him the ideal gift to say "I love you" to that special person in your life. Already made your other spouse/boyfriend a gift this year? Then keep this idea handy for a cute winter themed Valentines Card next year.
---
Snowman Bunting by Loopingly Made
Making your own bunting is a great way to add festive touches to any room in your home. You don't need much yarn to get a string of bunting made, so it's the ideal end of year project to use up all your scraps (leaving room for more new yarn in the New Year!).
---
Easy Snowman Ornament by Oombawka Designs
A super simple Snowman, which would look lovely either hanging up on your Christmas Tree or taking center stage on a table top. Each snow ball is worked separately and then hand stitched together to form your snowman.
---
Snowman Pillow Sham by Salty Pearl Crochet
Work up this fun pillow with just two skeins of chunky weight yarn, a few big black buttons or scrap black yarn and a scarf in your favorite color (or whatever yarn you have left over from another chunky project).
---
Snowman Kitchen Towel by A Crocheted Simplicity
An adorable (and useful) decoration to hang in your kitchen this festive season. These would also make a really fun gift for a cooking mad friend.
---
Snowman Advent Calendar by Nickis Homemade Crafts
A family heirloom in the making. Make it this year and use it for years to come. Due to the clever design and use of magnetic strips means, each year you can make your Snowman look a little bit different to keep him fresh and nostalgic at the same time.
---
Melted Snowman Scrubby by Crystalized Designs
A fun twist on a scrubby. This Snowman design will wow down at your local craft market or impress friends in their gift basket. Such a cute little face as well.
---
Norman Buttons the Snowman Pillow by Underground Crafter
A beginner friendly pattern guaranteed to bring a festive smile to it's recipient. A winter themed pillow filled with character and the ideal design to add some special buttons too from your collection.
---
Crochet Snowman Couple Amigurumi by Winding Road Crochet
These Snowmen will look fabulous sat on your mantle all Winter long. Featuring a vintage design of "button nose and two eyes made of coal" to replace the more modern carrot nose version that we see so much of now.
---
Little Frosty Friend Snowman by Carol Hladik Designs
Fill a basket with these little Frosty Friend Snowmen to make a real impact in your entrance hall this Winter. They would also make a a fun gift to go into a child's Christmas Stocking.
---