Christmas Stockings aren't just for the kids. Crochet Christmas Stockings can be enjoyed by everyone whatever their age. Whether you are looking to make a stocking for a grandchild, a niece or nephew or a trusted friend, then we have you covered in this round up.
We have Christmas Stockings to hang on your tree, adorn your holiday greetings cards, decorate your fireplace or for a fun twist on gift wrapping. We even have one for your dog (why should they miss out on all of the fun!?!)
With patterns to suit all levels of crocheters, you will be spoiled for choice deciding which Crochet Christmas Stocking to make this Holiday season.
Snowflake Christmas Stocking by My Hobby is Crochet
A Snowflake Stocking is the perfect design for a child who loves Frozen. Hang it on your fireplace or turn this design into a pair of warm and chunky slipper boots.
---
Diamonds and Gems Stocking from Pattern Paradise
Designed in worsted yarn this stocking works up real quick. It's the perfect pattern for a beginner to make one for everyone in their family. You can even make up a few extra and use them as fun giftbags.
---
Vintage Christmas Stocking with Faux Fur Pom Poms and Cuff by CrochetKim
A gorgeous antique design by the very talented Kim Guzman for CrochetKim. Keep the stocking plain or add some extra festive decorations with an optional fluffy cuff and some pom poms.
---
Holly Berry Stocking by The Purple Poncho
A timeless Christmas Stocking that can be brought out year after year and passed down through the family. Choose your own color combination and decide whether to add a fur cuff or leave it off.
---
African Flower Crochet Stocking by Persia Lou
If you are looking to try something a bit different this year then this African Flower Crochet Stocking could be just what you are looking for. Built using African Flower Hexagons, which are then stitched together.
---
Crochet Stocking for your Dog by Golden Lucy Crafts
Here is a really fun idea for your dog this Christmas. Fill it to the brim with their favorite nibbles and toys to ensure they don't miss out on the treats. This would make a really thoughtful gift for a friend with a furry friend.
---
Fabulously Festive Christmas Stockings by Gleeful Things
A fabulous looking stocking to hang over your fireplace as decor or to be filled with small gifts. Don't be put off by the level of detail here as it is actually pretty simple once you get going with it (it's mostly double crochet) and works up quickly.
---
Pretty in Gingham Stocking by Divine Debris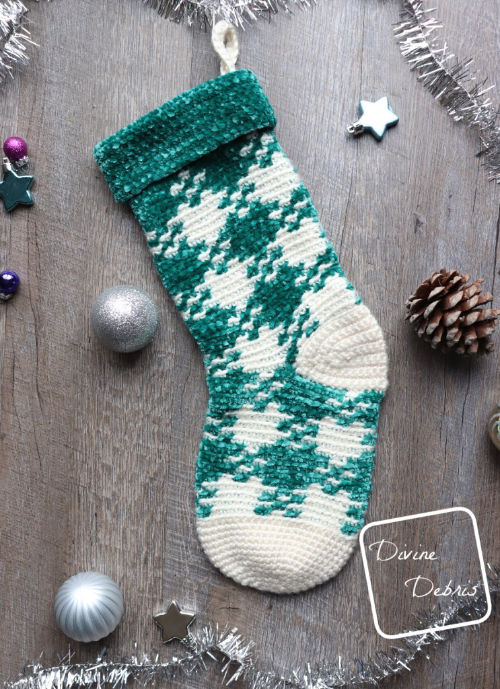 You can make this Stocking your own by changing up the weight of the yarn or by using different color combinations to add your personal style to this gorgeous gingham design. A great gift for a special friend.
---
Gift Card Stockings by Jen Hayes Creations
Add an extra special touch to your gift cards this year. These 4 different mini stocking patterns will wow your friends and family this year with their cuteness. They would make cute gift tags as well.
---
Polka Dot Crochet Stocking from Briana K Designs
A fun Polka Dot Design is used here. Personalize with your lucky recipients favorite colors or a seasonal theme. Includes a handy crochet hook for easy hanging.
---
A Granny Square Stocking by Sweet Beet Crochet
Who doesn't love a granny square? A classic design here filled with nostalgia and guaranteed happy memories to be made each year this stocking is hung up. A great gift for family and friends alike.
---
RGB Mini Stockings by Blackstone Designs
A commemorative stocking tree ornamnet or mini gift holder to mark the passing of Ruth Bader Ginsburg this year. Quick and easy to work up and you have 3 different collar designs to choose from or design your own.
---
Fireside Cottage Stocking by Sunflower Cottage Crochet
Here we have a modern twist on a classic Christmas Stocking design. The ideal gift for that hard to buy for friend or family member. Fill it with a few treats just for them and it will be a gift to remember.
---
Mini Crochet Christmas Stocking by Crochet 'n' Create
Here is another sweet little mini Christmas Stocking pattern. Perfect to hang on your tree or make up a batch and turn them into a gorgeous festive garland. You could even make up 24 and use them on a fun Advent Calendar.
---