I had so much fun making these projects! I have always wanted a crocheted makeup clutch in bright fun colors but I wanted it lined and, no matter how much I tell myself I'm going to line something, it usually just sits in my work basket for…… ever. With these, I used prepurchased little muslin purses and simply inserted them inside the crocheted pouch and boom! Lined clutch. Use it for your makeup or, since it's lined, use it to carry around your crochet hooks. Since there are no holes you don't have to worry about the hooks falling out of your hook pouch. Lots of different uses!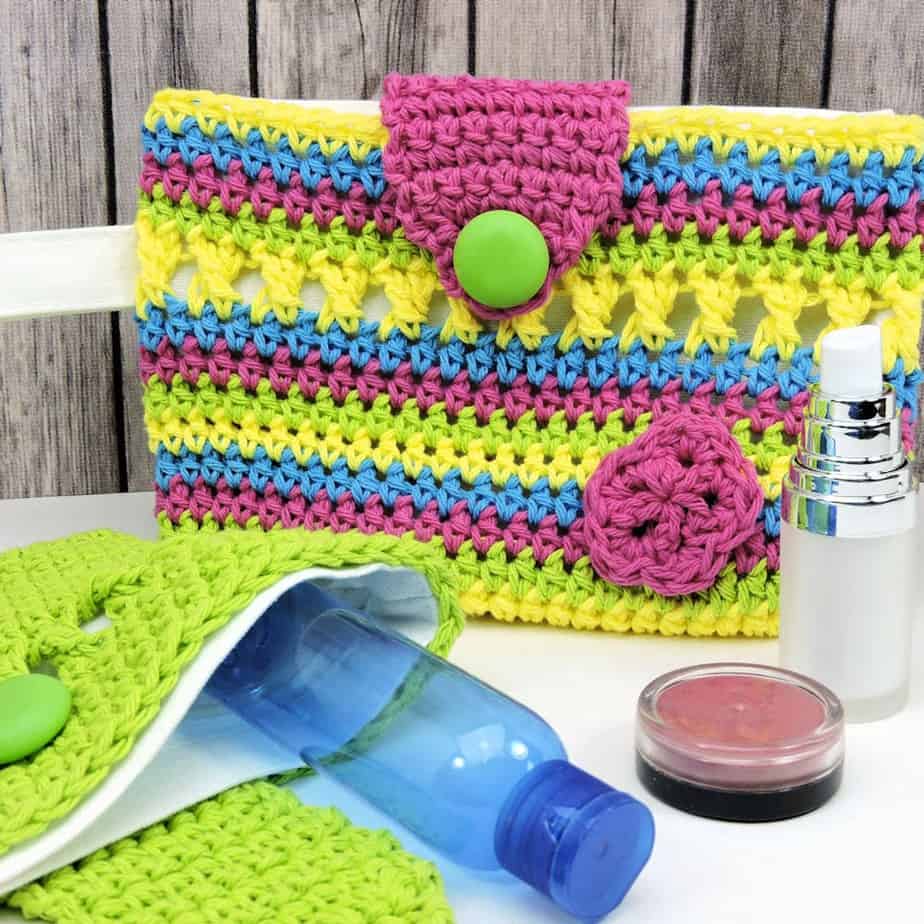 Flirty Makeup Clutch or Crochet Hook Holder
designed by Kim Guzman © May 2017
Please read my Terms of Use
Technique: Regular Crochet
Finished Size
Crocheted cover measures 9″ wide by 6″ tall, when flat
Notice and Disclaimer: All crochet patterns written by Kim Guzman at CrochetKim are in US terms. All photos not copyright to Kim Guzman are posted with permission. This website contains affiliate links.
Read Privacy Policy here.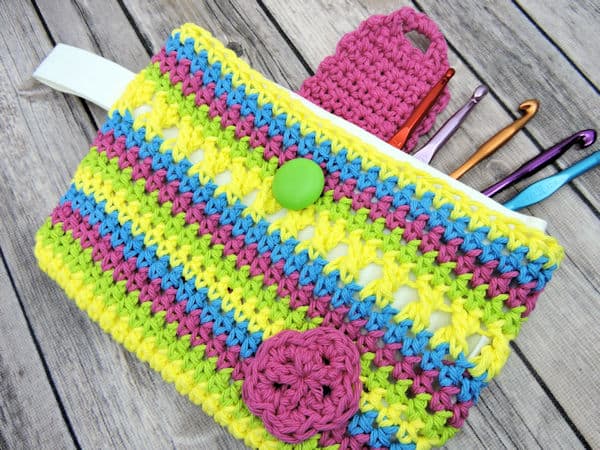 Materials
Red Heart Creme de la Creme, 100% combed cotton worsted weight yarn, 125 yds per 2.5 oz ball; about 125 yards required
Crochet Hook Size: J-10 [6mm]
One-inch button
Yarn needle
Pre-made canvas zippered clutch, measures: 9 by 5.7 inches with 1.8 inches bottom (See Amazon link below.)
Coordinating sewing thread and sewing needle (optional)
Gauge
When making gauge swatches, you should make a swatch of about 10″ by 10″ in order to get an undistorted center measurement of 4″ by 4″. This little bag is only 9″ by 6″ so it doesn't really make any sense to make a gauge swatch. Measure when you're about halfway to see if you're on target. Adjust your hook size, as necessary.
MY LATEST VIDEOS
Special Stitches
Single Crochet Two Together (sc2tog): Insert hook in stitch indicated, yarn over, pull loop through, insert hook in next stitch, yarn over, pull loop through, yarn over, pull through 3 loops on hook.
Notes
Although it's not crucial, this clutch is made so that the pre-made zippered clutch fits inside it. The clutch can, of course, be made and used without the zippered lining.
Experiment with color changes or make a solid color throughout. It's completely up to you.
Free Crochet Pattern Begins Here
Instructions
Note: Beginning chain does not count as a stitch.
Round 1: Ch 26, sk first ch, 3 hdc in next ch, hdc in next 23 ch, 3 hdc in last ch, turn so that the foundation chain is now upside down, hdc in unworked loops of 23 ch, sl st to first hdc: 52 hdc.
Rounds 2-8: Ch 1, hdc in each hdc around, sl st to first hdc.
Round 9: Ch 3, sk first hdc, tr in next hdc, working in front of tr just made, tr in same hdc as beginning ch-3, *sk next hdc, tr in next hdc, working in front of tr just made, tr in skipped hdc, rep from * around, sl st to first tr: 26 crossed trebles.
Round 10: Ch 1, hdc in each tr around, sl st to first hdc.
Rounds 11-13: Ch 1, hdc in each hdc around, sl st to first hdc. On final round, fasten off.
Button Tab
Insert pre-made zippered clutch inside crocheted cover to use as reference. Pull wrist tab through one of the spaces of round 9. Using the back of the clutch as a guide, mark the center 8 hdc, join yarn with sl st, ch 1.
Row 1: Sc in each of indicated 8 hdc, turn.
Rows 2-8: Ch 1, sc in each sc, turn.
Row 9: Ch 1, sc2tog, sc in next 4 sc, sc2tog, turn.
Row 10: Ch 1, sc2tog, ch 3, sk 2, sc2tog, turn.
Row 11: Sl st in first st, 2 sc in ch-3 sp, sl st in last st, fasten off.
Fold tab over, loosely, giving a little bit of ease so the bag has some "grow room" and will still button with objects inside, sew button in place. If the holes in the button are large enough, you can use pieces of yarn. If not, you will want to use sewing thread and needle.
Flower (optional)
Round 1: Ch 2, sk ch, in second ch, [sc, ch 3] 5 times, sl st to first sc and into ch-3 sp, tighten center circle.
Round 2: Ch 1, [sc, hdc, sc] in each ch-3 sp, sl st to first sc, fasten off.
Using yarn needle, attach applique to side of clutch.
Finishing
With yarn needle, weave in all ends securely.
If desired, baste crocheted cover to zippered clutch.
Pin It
Many of you have written to me to ask how you can help support CrochetKim. A Patreon account was suggested but I thought it would be better to provide ad-free PDFs of my patterns so you would get something in return. I'm steadily working on adding PDFs to all my patterns and I've also made this compilation available at a discounted price. You can, of course, view, print, paste to a word processor, convert to PDF, etc. on your own. This is just an extra feature so that people help out, if they want. Thank you to all of you for your overwhelming support and kindness these many years. Enjoy!