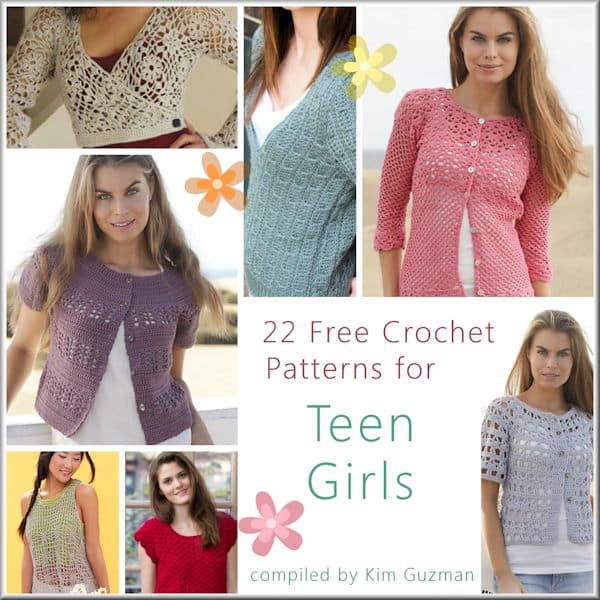 When looking for patterns for teen girls, try looking for designs in the womens which include XS and S size ranges. I have picked some items which I think teens will like. Given that it's been more than 30 years since I was a teen, please feel free to question my ability to pick. ha! I have tried to envision whether or not one of the girls on "Pretty Little Liars" would wear it as my method of choosing.
I do not mean to imply that these can't be worn by women above age 18. I simply thought a teen might like them as well.
Shown:
1. Maggie Wrap by Robyn Chachula (There are two download links, use the second one under the knitting section. The crochet section has extraneous text that breaks the code.)
2. Mock Cable Pullover by Kim Guzman of CrochetKim
3. Summer Blush from Drops Design
4. Darling Please from Drops Design
5. Light Layers Tank from Yarnspirations
6. Shell Stitch Top by Danielle Reed for Red Heart Yarns
7. Nevertheless from Drops Design
Not Shown:
8. Delight Crochet Bolero from Drops Design
9. Doily Top Cover Up by Gu'Chet
10. Amijin Cotton Buttoned Tunic from Pierrot Yarns
11. Janis Vest by Kimberly McAlindin for Caron Yarns
12. Summer Fancy Shorts from Drops Design
13. Butterfly Wrap from Double Stitch Twins for Red Heart Yarns
14. Erin by Amy Depew
15. Hot Mesh Top by Margaret Zellner
16. Not Your Granny's Skirt by Brandi Isham
17. Surf Side Top from Lion Brand (requires free registration and login)
18. Pont du Gard Tunic from Pierrot Yarns
19. Pinstripe Tube Top by Kim Guzman of CrochetKim
20. Summer Cotton Tee by Gabriëla Clementine
21. Peach Perfection from Drops Design
Enjoy!