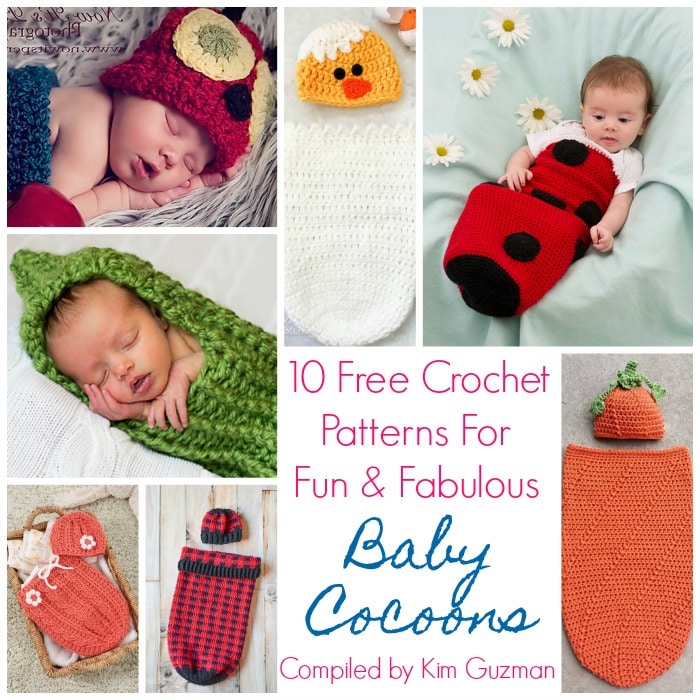 I didn't really start seeing these until about 2013 or 2014 so it was well past my being able to use them for my own kids. There is something so comforting about them, though. I can imagine a little newborn feeling safe and protected, all cuddled up. This was also about the time the crochet photo prop mania began so we started seeing more and more of them. Here are 10 of my favorite, perfect for swaddling or photography, whichever you choose.
Shown (left to right, top to bottom)
Notice and Disclaimer: All crochet patterns written by Kim Guzman at CrochetKim are in US terms. All photos not copyright to Kim Guzman are posted with permission. This website contains affiliate links.
Read Privacy Policy here.
1. Caterpillar Cocoon & Hat Prop Set by Tammy of Posh Patterns
MY LATEST VIDEOS
2. Baby Chick Newborn Hat and Cocoon by Megan Meyer of Left In Knots
3. Ladybug Baby Cocoon by Lorna Miser for Red Heart Yarns
4. Garden Cocoon by Melody Rogers of Melody's Makings
5. Just Peachie Cocoon Set by Maria Bittner for Red Heart Yarns
6. Plaid Baby Cocoon and Hat Set by Bethany Dearden of Whistle & Ivy
7. Pumpkin Cutie Pie Newborn Set by Heidi Yates of Snappy Tots
Not Shown in Collage
8. Chevron Baby Sleep Sack by Donita Westman of Knit On
9. Fleecy Cloud Cocoon & Beanie Set by Ira Rott
10. Just a Lil' Foxy Baby Cocoon and Hat by Amanda Julien of Stitched Pixels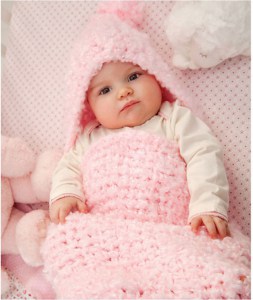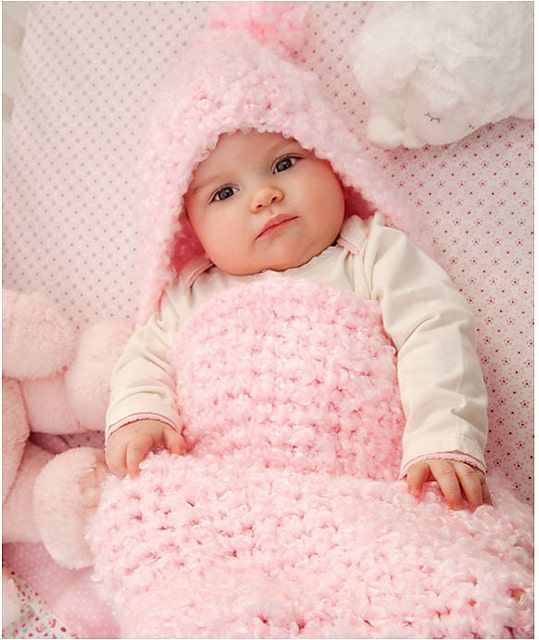 Bonus 11. Baby Clouds Newborn Cocoon by Kim Guzman of CrochetKim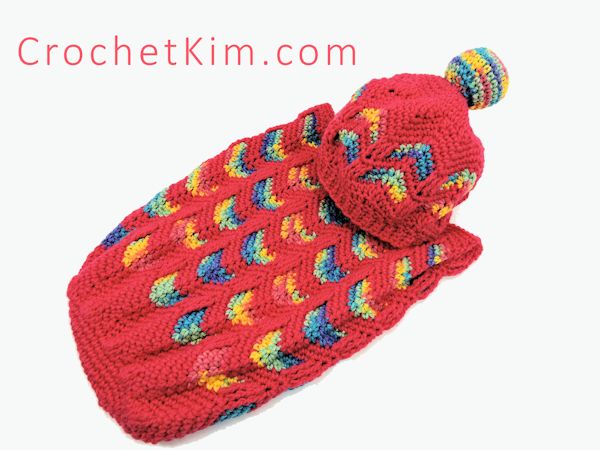 Bonus 12. Circus Love Baby Cocoon by Kim Guzman of CrochetKim
This concludes your Link Blast! Enjoy!
Many of you have written to me to ask how you can help support CrochetKim. A Patreon account was suggested but I thought it would be better to provide ad-free PDFs of my patterns so you would get something in return. I'm steadily working on adding PDFs to all my patterns and I've also made this compilation available at a discounted price. You can, of course, view, print, paste to a word processor, convert to PDF, etc. on your own. This is just an extra feature so that people help out, if they want. Thank you to all of you for your overwhelming support and kindness these many years. Enjoy!