I think that crochet themed wreaths have to be one of the coolest things I've seen in awhile. It never even occurred to me to make fun wreaths until I started seeing them online about three years ago or so. Here's a compilation of 10 different wreaths for your seasonal Christmas decorating.
Shown (left to right, top to bottom)
Notice and Disclaimer: All crochet patterns written by Kim Guzman at CrochetKim are in US terms. All photos not copyright to Kim Guzman are posted with permission. This website contains affiliate links.
Read Privacy Policy here.
1. Season's Greeting Wreath by Lily Sugar'n Cream from Yarnspirations
2. Merry Christmas Wreath by Lily Sugar'n Cream from Yarnspirations
3. Peppermint Candies Wreath by Amber Millard from Divine Debris
4. Braided Christmas Wreath by Maria Bitner from Pattern Paradise
5. Christmas Wreath by Apeksha Prasad from Knot My Designs
6. Christmas in Bloom Wreath by Drops Design Garnstudio
Not Shown in Collage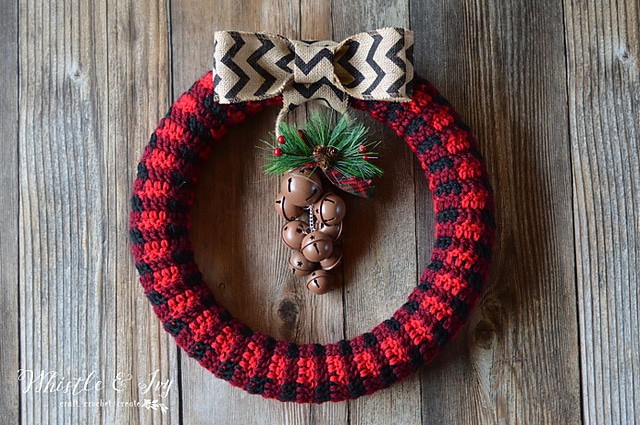 7. Buffalo Plaid Wreath by Bethany Dearden from Whistle & Ivy
8. Christmas Wreath by Lucy from Attic24 (UK terms)
9. Christmas Pattern Wreath by Susanne from Rats As Pets
10. Christmas Poinsettia Wreath by Tanya Shliazhko from Yarn Twist
This concludes your Link Blast! Enjoy!
– – – – –
Looking for more fun Christmas holiday decorations?
Try these fun Christmas Stockings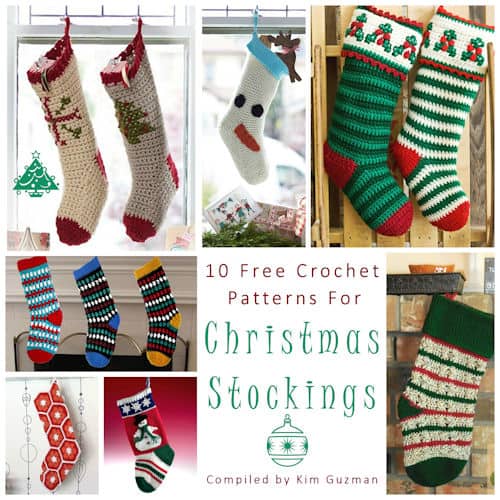 Many of you have written to me to ask how you can help support CrochetKim. A Patreon account was suggested but I thought it would be better to provide ad-free PDFs of my patterns so you would get something in return. I'm steadily working on adding PDFs to all my patterns and I've also made this compilation available at a discounted price. You can, of course, view, print, paste to a word processor, convert to PDF, etc. on your own. This is just an extra feature so that people help out, if they want. Thank you to all of you for your overwhelming support and kindness these many years. Enjoy!