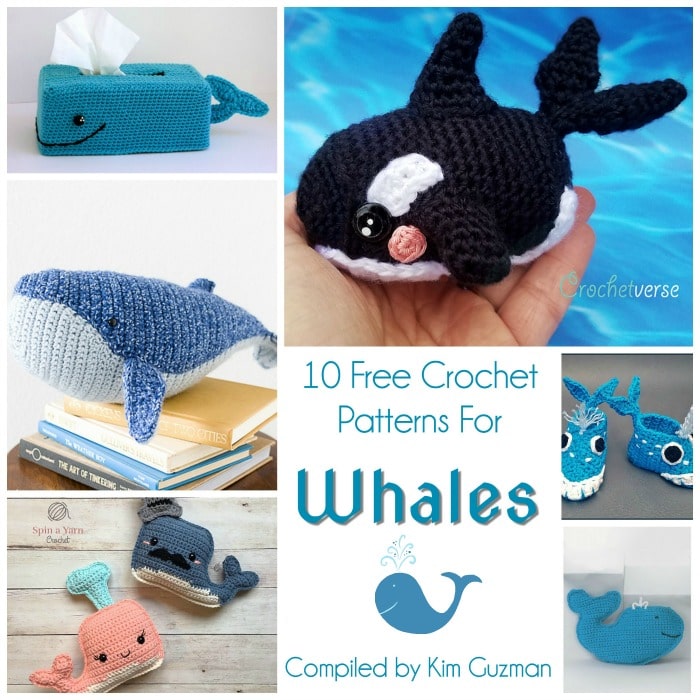 When I think of whales, I can't help but think of "Free Willy", of course. But, that's not my favorite whale movie. My favorite is Star Trek 4: Voyage Home. "Admiral, there be whales here!"
Notice and Disclaimer: All crochet patterns written by Kim Guzman at CrochetKim are in US terms. All photos not copyright to Kim Guzman are posted with permission. This website contains affiliate links.
Read Privacy Policy here.
Shown:
MY LATEST VIDEOS
1. Get Whale Soon Tissue Box Cover by Tamara Kelly of Moogly Blog
2. Baby Humpback Whale by ChiWei Ranck of One Dog Woof
3. Orca Whale Amigurumi by Stephanie Pokorny of Crochetverse
4. Whale Amigurumi by Spin a Yarn Crochet
5. Whale-y Awesome Baby Booties by Nadia Fuad of YARNutopia
6. Baby's Friendly Whale by Lily Sugar'n Cream and Bernat Design Studio at Yarnspirations
Not Shown:
7. Orca by Jazmo Tennant of Jazmo Crochet. This one is more of a realistic amigurumi rather than a cartoony one. But, alas, you'll have to click over to catch a glimpse because I've been unable to reach the owner.
8. Baby Whale Buddy by Joanita Theron of Creative Crochet Workshop
9. The Blue Whale Baby Bib by Nadia Fuad of YARNutopia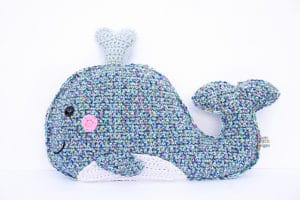 10. Whale Kawaii Cuddler™ by Donna & Michaelene of 3am Grace Designs
As always, the ones not shown in the collage are usually not shown because I don't have permission from the copyright holder to show their photo. Once they give me permission, I will come back and update the page, as time allows.
Enjoy!
Many of you have written to me to ask how you can help support CrochetKim. A Patreon account was suggested but I thought it would be better to provide ad-free PDFs of my patterns so you would get something in return. I'm steadily working on adding PDFs to all my patterns and I've also made this compilation available at a discounted price. You can, of course, view, print, paste to a word processor, convert to PDF, etc. on your own. This is just an extra feature so that people help out, if they want. Thank you to all of you for your overwhelming support and kindness these many years. Enjoy!