Inspired by the solid color throws seen in current home decor magazines, this beautiful lace throw is perfect for any decorating style.
I love when I make up a stitch pattern and it works this beautifully!
Making beautiful crochet lace is a wonderful way to spend your evenings. This is included in my series, Romantic Lace Throws.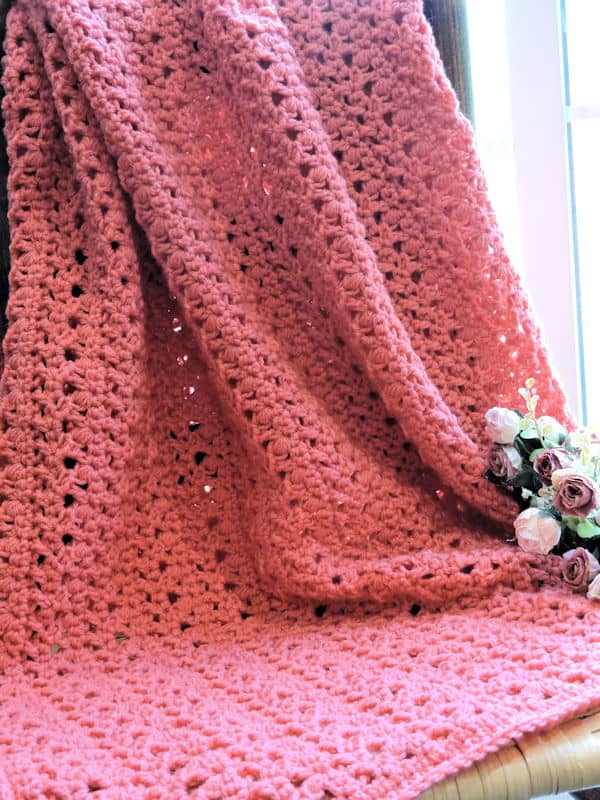 Peony Passion Throw
designed by Kim Guzman © May 2018
Please read my Terms of Use
Technique: Regular Crochet
Finished Size
45″ x 54″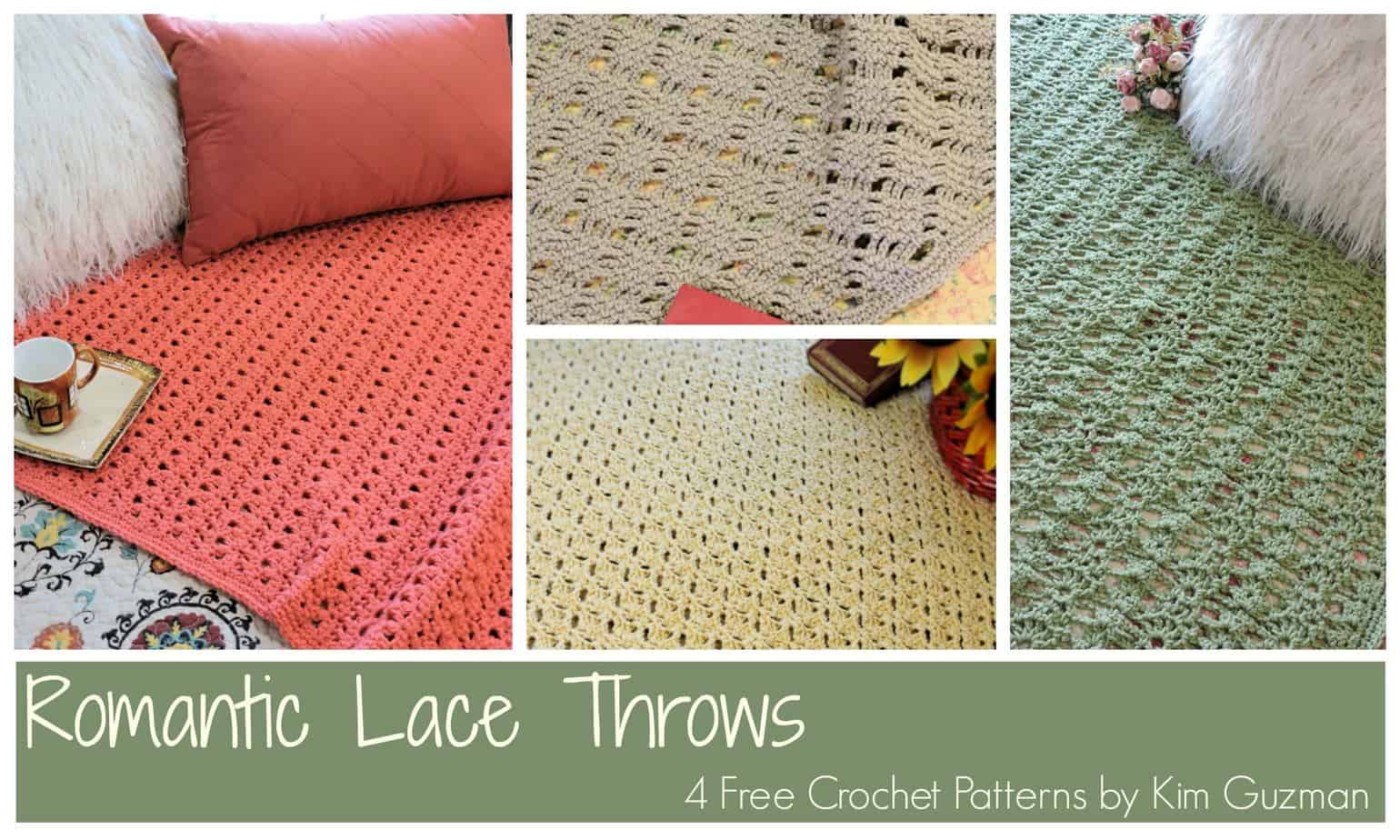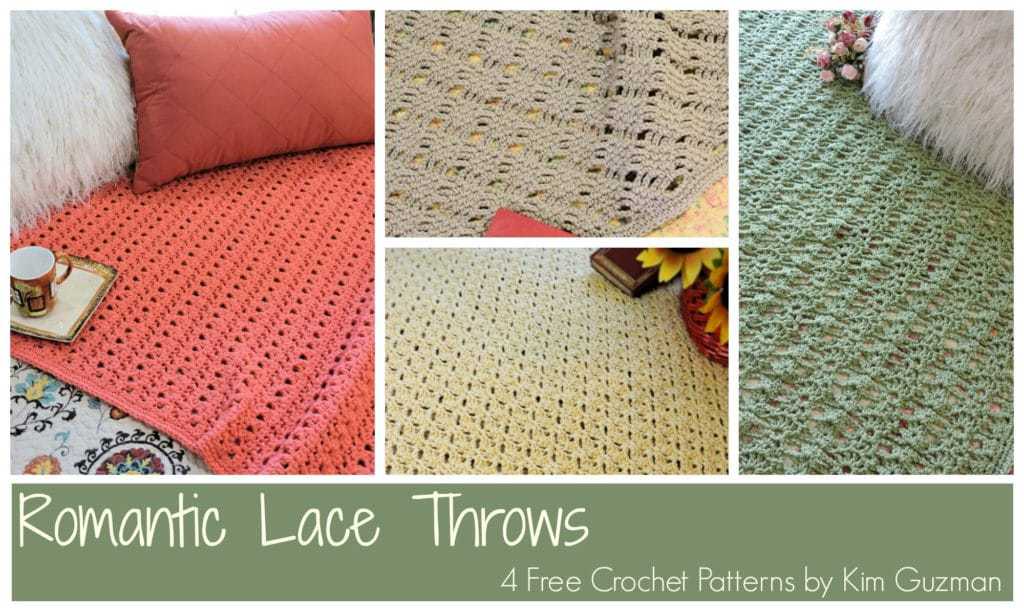 Materials
Red Heart Super Saver, 100% acrylic, 364 yds per 7 oz, Size 4 aran weight: 5 skeins (or about 1700 yds) in color Flamingo
Size K-10½ [6.5mm] crochet hook, or size needed to meet gauge
Yarn needle
Video Support
Note: Video will not show if using an Ad Blocker. Please turn off Ad Blocker to view.
Gauge
In stitch pattern, 12 sts for 8 rows measures 4″
This project is designed (and is shown in photos and measurement) as side-to-side rather than bottom to top. I preferred the look of side-to-side on this one. You may choose whichever you prefer, of course.
Special Stitches
Cross: Sk 1 st, dc in next st, working behind dc just worked, dc in skipped st.
Puff: Yo, insert hook in st indicated, yo, pull lp through, [yo, insert hook in same st, yo, pull lp through] twice, yo, pull through 7 lps on hook.
Notes
Should you like to change the stitch count, the multiple is 6, plus 5.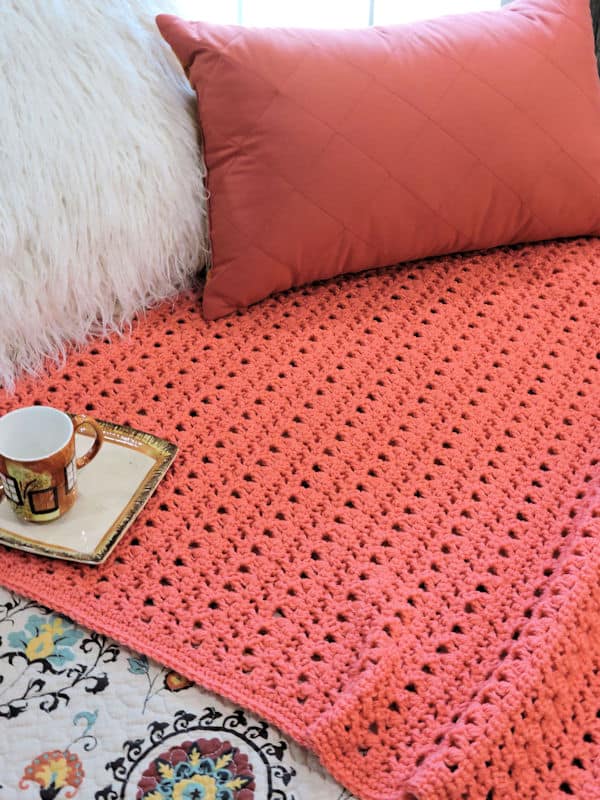 Crochet Pattern Instructions
Row 1: Ch 167, sk first ch, sc in each remaining ch, turn: 166 sc.
Row 2: (RS) Ch 2, sk first sc, Cross (see Special Stitches above) to last sc, dc in last sc, turn: 82 Crosses
Row 3: Ch 1, sc in first and each remaining dc across, sc in top of beg ch-2, turn: 166 sc.
Row 4: Ch 3, Puff (see Special Stitches above) in first sc, *ch 1, sk 2 sc, [dc, ch 2, Puff] in next sc, rep from * to last 3 sc, ch 1, sk 2 sc, dc in last sc, turn: 54 ch-2 sps.
Row 5: Ch 1, 2 sc in first dc, 3 sc in each ch-2 sp across, 2 sc in beg ch-3 sp, turn: 166 sc.
Rows 6-89: Rep rows 2-5.
Rows 90-91: Rep rows 2-3. Do not fasten off; begin working in the round.
Trim
Round 1: With RS facing you, ch 1, 3 sc in corner, sc evenly around, with 3 sc in each corner, sl st to first sc.
Rounds 2-3: Ch 1, sc in each sc around, with 3 sc in second sc of each corner. Fasten off.
Finishing
Weave in ends securely.