All crochet patterns written by Kim Guzman at CrochetKim are in US terms. All photos not copyright to Kim Guzman are posted with permission. This website contains affiliate links. Any purchases through affiliate links will provide me with the income necessary to keep this site available at no extra cost to you.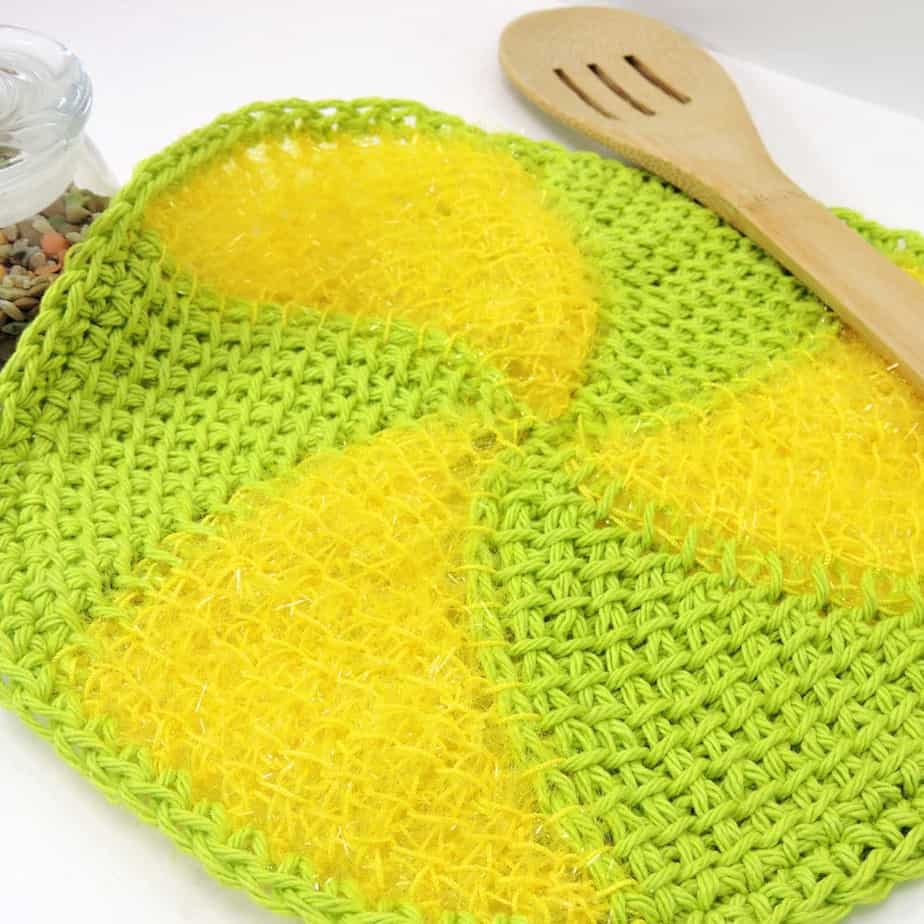 Radioactive Scrubs
designed by Kim Guzman © Sep. 2016
Please read my Terms of Use
Technique: Tunisian Crochet
Finished Size
9.5″ across (with trim)
MY LATEST VIDEOS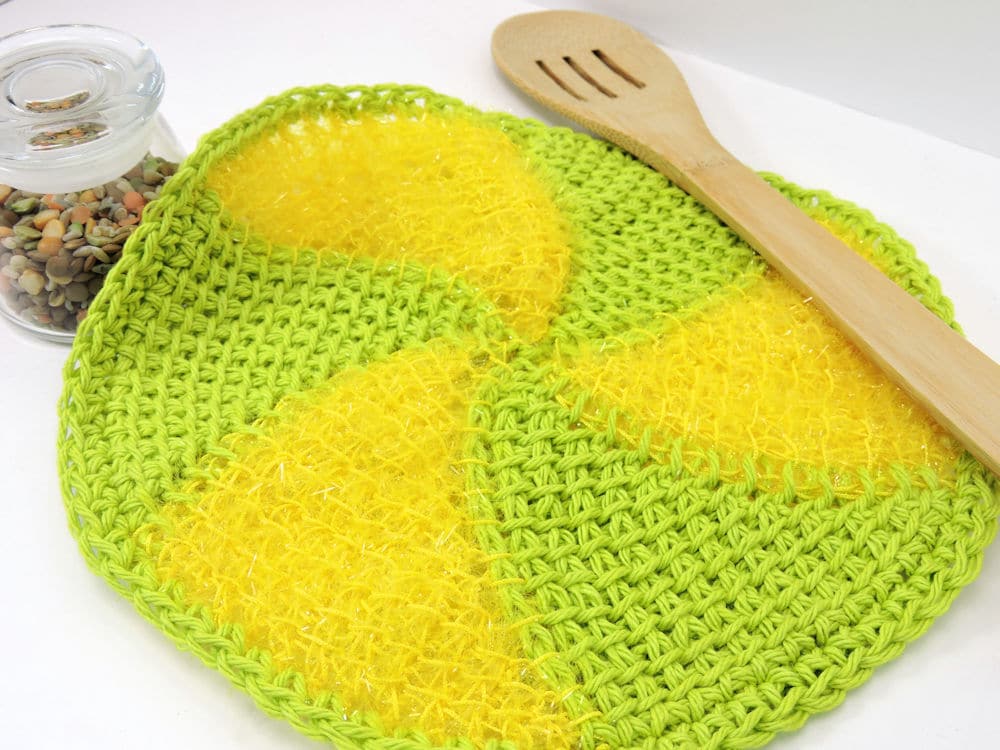 Materials
A: Red Heart Scrubby Sparkle, 100% polyester highly-textured eyelash worsted weight yarn, 174 yds per 3 oz ball, shown in color Lemon
B: Red Heart Creme de la Creme, 100% combed cotton worsted weight yarn, 125 yds per 2.5 oz ball, shown in Brite Green
Tunisian Crochet Hook Size: H-5mm (or hook necessary to meet gauge or fabric preference)
Regular Crochet Hook Size: H-5mm
Yarn needle (for weaving ends)
Gauge
15 tss for 13 rows measures 4″.
Special Stitch
Tunisian Simple Stitch (tss): Insert hook in a side-to-side motion under the front vertical bar, yarn over, pull loop through. Right-Handed Video | Left-Handed Video
Other Helpful Videos
Tunisian Foundation Row: Right-Handed Video | Left-Handed Video
Bind Off Row: Right-Handed Video | Left-Handed Video
Notes
I really enjoy working in short rows with Tunisian crochet. I am always trying new ways to perfect the technique and this project will demonstrate another method I've come up with. If you've never worked in Tunisian crochet, just know that the last couple of stitches in the row are worked differently than typical Tunisian crochet rows. If you have worked in Tunisian crochet before, notice that I haven't made the initial chain-1 when closing the row. This means that the last two stitches of a row will look like a decrease, but you're not really going to treat those stitches like a decrease. That extra chain-1 caused a little gap that I didn't really like and this is my experiment to get rid of it. I rather like the way it turned out, but it took me a little bit to train my hands to stop making a chain-1.
Instructions
Row 1:
A: With color A and Tunisian hook, ch 15, sk 1 ch, pull up lps in back horizontal bar of each rem ch, close—15 lps on hook.
B: [Yo, pull through 2 lps on hook] across—1 lp remains on hook here and throughout.
Row 2:
A: Sk first vertical bar, tss in each vertical bar to "fake 2-st decrease at the end", tss in first vertical bar of "fake decrease"—14 lps on hook.
B: [Yo, pull through 2 lps on hook] across.
Rows 3-13: Rep row 2. On last row, 3 lps on hook before closing.
Row 14:
A: Sk first vertical bar, tss in both vertical bars of "fake decrease", tss in each unworked 2nd vertical bar of "fake decrease" in rows 13 down to 2 (step down like you're stepping down stairs)], insert hook in last st of row 1, yo, pull lp through—15 lps on hook, drop color A.
B: With color B, [yo, pull through 2 lps on hook] across.
Rows 15-26: Rep row 2.
Row 27: Rep row 14, changing to color A.
Rows 28-53: Rep rows 2-27.
Rows 54-78: Rep rows 2-26.
Final row: With B, rep row 14, except work slip stitches as for tss instead of just pulling lps through, fasten off. (See bind off video for more clarification, if necessary.)
Finishing
With yarn needle, seam last row to first row. With regular crochet hook, join B with sl st to any st on outer edge, ch 1, sc in each st around outer edge, sl st to first sc, fasten off. Weave in all ends securely.
Pin It:
Many of you have written to me to ask how you can help support CrochetKim. A Patreon account was suggested but I thought it would be better to provide ad-free PDFs of my patterns so you would get something in return. I'm steadily working on adding PDFs to all my patterns and I've also made this compilation available at a discounted price. Thank you to all of you for your overwhelming support and kindness these many years. Enjoy!