The Boye crochet hook is a classic beginner hook featuring a tapered (as opposed to inline) shape to provide better speed for crocheters.
These durable classics come in various styles and are worth considering when adding to your crochet toolbox.
Our Top Pick
Boye Ergonomic Hook Set
Great Value, Great Quality
The Boye Ergonomic Set is the best quality and quantity for the price! You can't go wrong with this all-inclusive set that includes a carry case.
The Boye Crochet Hook Range
All Boye crochet hooks feature the classic tapered hook's narrow neck and shallow throat. The tapered hook prevents the yarn from splitting and improves the general speed of crocheting.
Learn more about the various crochet hook types.
Let's jump into the range and see what Boye is all about.
Boye Simplicity Aluminum
Simplicity hooks are the most basic of the Boye crochet hook lines. The sturdy, anodized aluminum is lightweight and easy to use.
It is worth noting that smaller hooks might be prone to breaking from overly tight stitches, like making amigurumi.
Our View: A great beginner basic
Specs:
Aluminum
Tapered hook
Size D/3.00 mm – K/6.5 mm
Slim metal handle, no ergonomics
Affordable
---
Boye Steel Hooks
Boye Steel hooks are made for tiny, detailed work. They're specially developed to work with cotton and silk threads to make crocheted lace.
The steel is smooth, allowing the crocheter to create quick stitches. These tiny hooks can cause hand cramps with extended use.
Our View: A must when working with thread.
Specs:
Steel
Tapered Hook
Size 1/2.75 mm, 7/1.65 mm, 10/1.3 mm
Slim metal handle, no ergonomics
Affordable
---
Boye Master Aluminum and Steel Set
The Master set is the most inclusive crochet hook set offered by Boye Crochet. This set includes steel hooks and a full complement of aluminum crochet hooks.
With this set on hand, you will be equipped to make any number of projects, from the smallest lace to the largest afghan. You also receive a quality carrying case to store your complete set of crochet hooks.
Our View: The best bang for your buck!
Specs:
16 steel, 8 aluminum
Tapered hooks
Steel Sizes 00, 0, 1, 2, 3, 4, 5, 6, 7, 8, 9, 10, 11, 12, 13, 14
Aluminum Sizes D, E, F, G, H, I, J, K
Slim metal handle, no ergonomics
Storage case
Best deal
---
Boye Ergonomics
I have a soft spot for these quality aluminum hooks with a soft rubber handle since they were my first ergonomic crochet hooks.
Many crocheters, myself included, experience severe wrist and hand pain when crocheting for long periods.
Boye has added this set of ergonomic hooks to their lineup to promote hand health among crocheters.
Our View: Top pick! The most comfortable to use.
Specs:
Aluminum and rubber
Tapered hooks
Sizes B/2.25 mm – N/10.00 mm
12 crochet hooks
Soft rubber ergonomic handle
Mid-range price
---
Boye Ergonomic Hook and Needle Set with Case
This beautiful specialty set includes a complete set of ergonomic crochet hooks and a few yarn needles in a lovely pink case.
The hooks are the same shape as the Boye Ergonomics but with matching pink handles. This set includes a carrying case to store your hooks in a safe place.
Our View: A beautiful gift set.
Specs:
Aluminum hooks with rubber handle
Tapered hooks
Set of 6 Sizes E/3.5 mm – K/6.5 mm
Affordable for a set
---
Boye Afghan Hook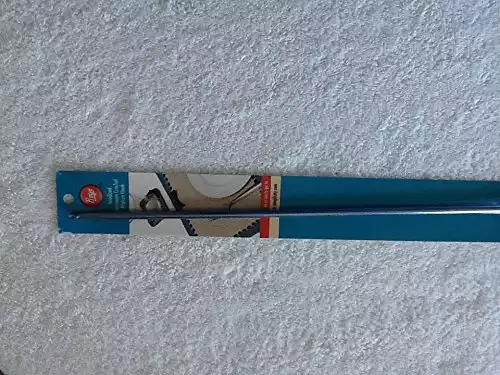 The Boye Afghan Hook is a longer than usual crochet hook with a stopper on the end. These hooks are specially designed for Tunisian crochet stitches.
The same qualities of the Simplicity hooks are featured again, just with extra length on the hook shaft. I struggled to find a complete set of these hooks for you, but you can buy them one at a time.
Our View: A necessity when beginning Tunisian crochet
Specs:
Aluminum
Tapered hooks
Sizes H, K
Slim metal handle
Affordable
---
Boye Plastics
The classic Boye crochet hook is also available in two sets of pastel-colored plastic hooks.
These plastic hooks sometimes squeak or drag through the yarn. Most crochet hooks have a slight indent for your thumb, but these hooks have a smooth, rough shaft without one.
Our View: An affordable alternative to aluminum.
Specs:
Plastic
Tapered Hooks
One set includes 4 hook sizes, L/8.5 mm – P/11.5 mm
One set includes 5 hooks sizes G/4.25 mm – K/6.5 mm
Slim plastic handle
Affordable
---
Boye Jumbo
When working with extra-large yarn, you need an extra-large hook! Boye has you covered with this pair of plastic jumbo hooks.
These hooks are standard tapered hooks with a long, smooth plastic handle.
They glide smoothly through blanket yarns. The original set did not include a thumb indent or size markings of any kind. Boye has recently updated the hook with both the indent and markings.
I prefer the original design better, but some prefer the new model.
Our View: The best jumbo hooks around.
Specs:
Plastic
Tapered hooks
Set of 2 hooks sizes P/11.5 mm and Q/15.75 mm
Thick plastic handle
Affordable
---
Boye Crochet Hook Accessories
---
Boye offers a few extras in addition to their classic hooks to improve your crocheting experience.
Ergonomic Handles
Maybe you already have a set of standard Boye hooks, but now your hands need a little more help to prevent cramping and pain. Instead of investing in an entirely new set of hooks, you can purchase the Ergonomic Handle to retrofit your current hooks into a more comfortable set.
The ergonomic handle fits any hooks from 2.00 mm – 6.5 mm. However, you have to move the handle from hook to hook, so you would need several if you had multiple projects going simultaneously.
Our View: An affordable way to upgrade your hooks.
Specs:
Plastic with rubber hook stopper
More affordable than a new set of hooks
Easy to install
Needs to be moved from hook to hook
---
I Taught Myself to Crochet Kit
This beginner crochet kit includes all the basics needed to learn the craft. You receive a set of hooks, a stitch counter, a tape measure, and much more in this inclusive kit.
Our View: A great beginner kit with all the accessories. Read more about the best crochet kits for beginners.
Specs:
Metal hooks
Comprehensive book with patterns
Lots of extras
---
Buyers Guide: Why Boye?
---
Are these the right hooks for you? Let's examine a little of the company's history and some common complaints about Boye crochet hooks.
Boye Needle Company History
The Boye Needle Company was initially founded in 1906 by James H. Boye; it was the first to offer a comprehensive line of crochet hooks beginning in 1917. One of the oldest needle manufacturers, you can rest assured that you will receive a quality product.
Boye Needle Company is now owned by the IG Design Group, along with Simplicity Patterns and Wilton Brands, LLC.
Favorite Features
Let's look at the features that we love about these hooks.
Affordability
Due to the low cost of these hooks, they are an easy place to start. Even the ergonomic version of these hooks is priced low. The sets by Boye are some of the best quality for the price on the market.
Accessibility
As one of the premier brands in the United States, Boye crochet hooks are available almost anywhere yarn is sold – even at Walmart.
If you need one more size but don't have time to make a special trip to the craft store, you can snag one while picking up groceries.
Common Complaints
While Boye hooks are considered top-notch products, they have a few common complaints among crocheters.
Too Dull
Some crocheters prefer a sharper tip to the crochet hook. Boye hooks are rounded so that crocheters may have a more challenging time pushing the hook through each stitch, especially tight stitches.
Inconsistent
As a general rule, Boye hooks are excellent. But I and others have owned a few hooks that were not as smooth as the hook should be. Since this is not always the case, be prepared to return any flawed hooks for replacements.
Fragile
Crocheters with a tendency to stitch tightly, especially when making amigurumi, have complained that the hooks bent or snapped off at the neck. However, this is pretty standard with all aluminum or plastic hooks in smaller sizes.
Final Thoughts
Boye Crochet has a long tradition of providing excellent crochet hooks.
I prefer the Boye Ergonomics set since it is the set of hooks I've used the longest. However, you can't go wrong with any of their quality hooks at a ridiculously affordable price.
Related
You might also be interested in our guide to Susan Bates crochet hooks.